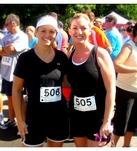 09.19.10
HBS was excited to be a presenting sponsor, along with Norwood Hospital, of the 8th Annual Hockomock Area YMCA's Healthy Futures and 5k Family Day. Donna Levine, President of HBS, is an active member and passionate supporter of the YMCA and involved in several areas of community and youth development, as well as health and wellness in general.
The event was held on September 19th at the Invensys Foxboro YMCA. Proceeds from the event benefited the 2010 Reach Out for Youth and Families Campaign & the Healthy Futures Task Force Initiatives. If you'd like to read more about these initiatives, please visit www.hockymca.org
The Hockomock Area YMCA is a not-for-profit charitable community service organization of men, women, and children of all ages, ethnic origins, religious affiliations, and socioeconomic levels united in a common effort to positively influence the quality of life of its members, families, and communities. Based on the foundation of Judeo-Christian values, our programs and activities emphasize the development of the whole person in spirit, mind, and body and are available to all individuals regardless of their ability to pay.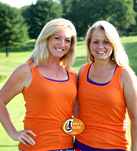 07.25.10
For the 6th year in a row, HBS was proud to be a corporate sponsor of Coley's Cause Memorial Golf Tournament.
This year, the event took place on Friday June 25, and both Donna Levine, President of HBS, and Kim Levine, Director of Billing Ops, volunteered their time to help make the tournament a success.
Please visit www.coleyscause.com if you'd like to read more about Donna and Kim's beloved niece, or to learn more about the annual Coley's Cause Memorial Golf Tournament.
Coley's Cause is a charitable trust foundation that seeks to raise desperately needed funds for the Fanconi Anemia Research Fund (FARF). Because Fanconi Anemia is an orphan disease, FARF serves as the single source of funding for issuing critical research grants in support of learning more about the genetic pathway of Fanconi Anemia and refining treatment protocols.
Coley's Cause also seeks to increase awareness of Fanconi Anemia and the devastating impact on the lives of afflicted children and their families.